Stir-Fry Beef with Broccoli in Oyster Sauce.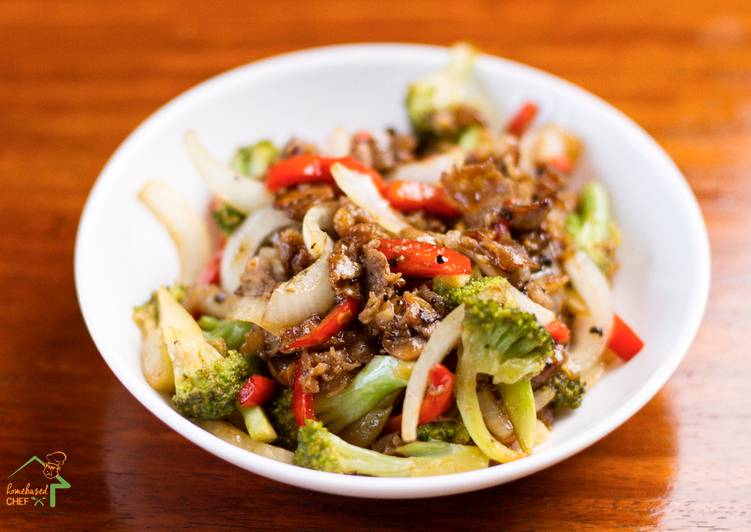 You can have Stir-Fry Beef with Broccoli in Oyster Sauce using 10 ingredients and 5 steps. Here is how you achieve that.
Ingredients of Stir-Fry Beef with Broccoli in Oyster Sauce
Prepare 100 grams of Beef Strips.
Prepare 100 grams of Broccoli.
Prepare 20 grams of Button Mushroom.
It's 5 cloves (20 grams) of Garlic.
You need 1/2 piece (50 grams) of White Onion.
Prepare 1 piece (30 grams) of Red Bell Pepper.
Prepare 1 tablespoon of Butter.
You need 1 tablespoon of Olive Oil.
It's of Salt.
You need of Black Pepper.
Stir-Fry Beef with Broccoli in Oyster Sauce step by step
PREPARE THE INGREDIENTS: Cut the beef strips into pieces. Cut the broccoli into pieces. Slice the button mushroom. Chop the garlic. Cut the red bell pepper into strips. Slice the onions. ©homebasedchef.
COOKING INSTRUCTIONS: Sauté the chopped garlic in olive oil. Add the sliced button mushroom and stir. Add the sliced beef strips and cook until it turns light brown in color. We are using beef gyudon strips in this video but you can use any cut/part of the beef for as long as it is sliced thinly..
Add the sliced red bell pepper and broccoli flowers and mix well. Season with salt and pepper. Add 1 tbsp of butter for additional flavor and stir..
Add a little amount of water around 1-2 tablespoons to wet the pan and the oyster sauce for flavoring and then mix well. Add the sliced white onions. We wanted to retain its crunch that's why we're added it last. Mix well to blend everything together..
Cook for a few more minutes and you're done! This can be served as it is or with steamed white rice. ENJOY!.